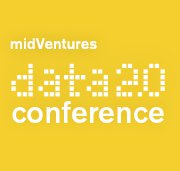 CloudTimes is proud to announce the sponsorship of the upcoming Data 2.0 Summit in San Francisco. The summit will be held on April 3rd, 2012 and is the largest Cloud Data conference in 2012.
Why is the next technology revolution a Data Revolution? Connect to speakers from Microsoft, Yahoo, Salesforce Data.com, Experian, Intuit, Battery Ventures, True Ventures, DataStax, Neustar, and 600 other entrepreneurs, investors, and executives at the intersection of Cloud Data, Social Data, Big Data, and the API Economy. In 2012 more data is accessible online than ever before: learn how companies like Cortera, Factual, and DataSift are building new business models using this abundance of data.
The Data 2.0 Summit includes a Startup Pitch Day where these 10 startups compete for over $20,000 in prizes in front of a panel of silicon valley venture capitalists: Precog, FoodGenius, Wishery, Lumenous, MortarData,  HG Data, Junar, SizeUp, Ginger.io, Booshaka.
HP Vertica has joined as a presenting partner in the Data 2.0 Summit and will discuss how its database technology is powering sites like Twitter, Groupon, and Zynga.
Here are a few of the discussions you can join with your Data 2.0 Summit Pass:
Keynote from Jim Fowler, founder of Jigsaw.com on "Lessons from Jigsaw: How to get bought for $175M"
"How Open is the Open Web?" Will discuss why the rise of closed apps like Facebook is rethinking the original concept of an "Open Web" with speakers from BitTorrent, PARC Content-Centric Networking, Mozilla, Yahoo, and Factual.
"Social Data: Foundation of the Social Web" will invite speakers from Microsoft, Linkedin, Clearspring to discuss how social data including social sharing, social news, and social connections are changing how we search, advertise, and work.
Presentations from Gurbaksh Chahal, founder of RadiumOne as well as Aza Raskin, founder of Massive Health.
The Data 2.0 Summit will also explore the strategies on how startups monetize data, why investors fund data companies, and why corporations are interested in acquiring data-centric tech startups. We invite all of the participants of the new cloud data ecosystem to our thought leadership summit across topics such as API infrastructure, accessing the twitter firehose, mining the social web, implementing big data technologies like Hadoop and MapReduce as well as NoSQL technologies like Cassandra and MongoDB, and the state of open government / open data initiatives.
CloudTimes readers get 20% off your Data 2.0 Summit Pass using the discount code "data2get2012″ through March 30th 2012 here.