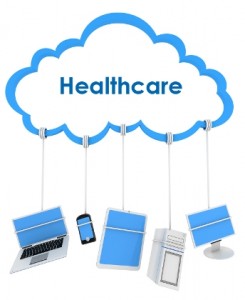 Cloud computing services are on the rise in the health care industry. However, its adoption is slowed by security, privacy, and regulatory concerns. But according to MarketsandMarkets, a research firm, cloud computing is expected to be worth $5.4 Billion in the health care market by 2017. Last year, it was estimated that at least 4% of the total health care industry have shifted to the clouds and will grow up to 20.5% this year. By studying the health care cloud computing market from 2012 to 2017, MarketsandMarkets came up with a conclusion that a cloud computing supplier in the health care industry such as Merge Healthcare, GE Healthcare, Dell, CareCloud, and Agfa Healthcare holds at most 5% share of the total health care market.
In its study, the research firm divided the industry into two: clinical and non-clinical. Software for pharmacy and imaging use, physician order entry, and EHR comprise the clinical applications. On the other hand, claims management, patient billing, and revenue cycle management comprise the non-clinical applications.
A possible benefit of shifting the EHRs to the clouds is that the information can be shared by various facilities in different places in order to facilitate quick patient treatments. However, cloud computing must be able to satisfy requirements like long term preservation, data reversibility, traceability of access, authorized access, confidentiality, and security. Also, another stumbling block to the adoption of cloud computing is that the public cloud systems must be able to satisfy regulations like the Health Insurance Portability and Accountability Act and other electronic health record guidelines.
In the same light, CDW, an IT services provider, also released the results of a 2011 Cloud Computing Tracking Poll which reported that data privacy and security are the primary reasons why health care cloud adoption is slow. Another cause of the delay is that IT systems are not interoperable. According to Dr. Harry Greenspun, a senior adviser at the Deloitte Center for Health Solutions, the health care industry is slow to adopt technologies concerning security and privacy. Just like the other industries, the health care industry is experiencing growing pains when it comes to cloud adoption.