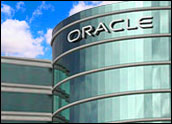 In October 2012, Oracle announced that it is set to introduce infrastructure-as-a-service systems so that organizations can implement in-house IaaS and pay for it monthly. The report said that it is not competing with Amazon Web Services but, instead, the company is offering on-premise systems as an alternative to buying Oracle applications. The said on-premise IaaS systems were launched recently.
With the new line of service offerings, Oracle explains that organizations need not spend on upfront capital costs with the capability to increase capacity quickly as required. Businesses can lease various integrated Oracle systems like Oracle Sun ZFS Storage Appliance, Oracle SPARC SuperCluster, Oracle Exadata Database Machine, Oracle Exalytics In-Memory Machine, and Oracle Exalogic Elastic Cloud.
The new line of IaaS service is less costly than buying the traditional system like the Exadata X3-2 Engineered System. According to Oracle, the cost of Exadata system can be at least $1.36 million for 3 years while the on-premise IaaS the company is currently offering can cost only $1.08 million for the same span of years.
Aside from the cost savings, businesses can also pay on a monthly basis. Additional capacity-on-demand can be requested without additional charge if at least a basic node fails. In general, Oracle promises one additional node for every 3 nodes in actual use which will be on standby should any of the current nodes fail. Hardware will also be upgraded periodically with no additional cost. Businesses are required to sign to a 3-year contract if they want to take advantage of Oracle's new offerings. At the end of the contract, organizations are required to return the IaaS systems to the company.
In the speech of Larry Ellison, Oracle's CEO, during the OpenWorld conference last year in San Francisco, he mentioned that a true cloud must be able to provide an infrastructure which an organization can manage and upgrade. Thus, Oracle announced the new line of infrastructure-as-a-service systems. Such systems can be deployed in an organization's data center for easy monitoring and control.
Juan Loaiza, Oracle's senior vice president for software development, said that it is the first time an organization can take advantage of the unmatched reliability, scalability, and performance of Oracle Engineered Systems by subscription to its on-premise, behind the firewall IaaS systems. Customers can also subscribe to Oracle's PlatinumPlus Services for expert advice and quarterly analysis. They can be provided with a system of evaluation for Oracle's system availability, security compliance, system performance, as well as advice and information on how to best resolve any current issues.