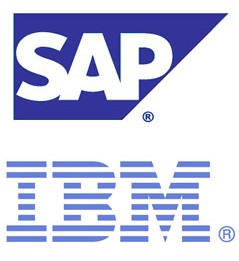 IBM has recently partnered with SAP to offer IBM SmartCloud Enterprise+, a global big data and cloud service. With this service, businesses can store, run, and access SAP applications correctly and safely in the clouds from Japan, Germany, France, Brazil, Australia, Canada, and US data centers. Both companies had worked together for the past 20 years but are now working to provide customer relationship management, employee resource planning, and database analytics on the cloud. The partnership will also compete against Oracle in the cloud and software fronts. Oracle currently offers storage systems and enterprise server.
The partnership will be beneficial to both SAP and IBM as it is expected to generate more revenues for both companies. In 2012, IBM earned $16.6 billion, a 4.7% increase from the 2011 net income. The company is estimating cloud revenue of $7 billion by the year 2015. On the other hand, SAP reported an increase of 1,400% in its cloud subscriptions and support in 2012. The income was pegged at $363 million. Cloud and software subscriptions also increased by 19% to €4.93 billion in 2012.
IBM now claims to have at least 9,000 enterprise cloud customers and had increased its cloud revenue by 80% in 2012. Its SmartCloud Enterprise+ service boasts of features like reliability, security, and high level service agreements, subscription-based pricing, and elasticity.
SmartCloud for SAP will also be available in different parts of the world. IT environments will be standardized and automated with the SmartCloud application. Enterprise customers can test and develop operations on the IBM's public cloud platform. This trial strategy will allow prospective clients to try the application before buying. The new offering will be made available for SAP  BusinessObjects and SAP Business Suite application.