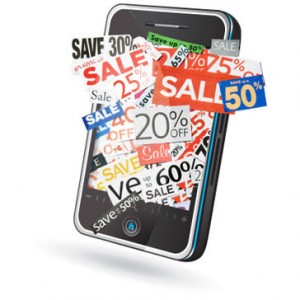 The last holiday shopping season saw an increase of mobile commerce from 3% to 11%. This percentage is estimated to be worth around $18 billion, excluding purchases related to travel. Thus, we can see the birth of fresh merchandising trends like mobile coupons and catalogs to attract new customers. It is estimated that retail e-commerce will increase to 15% by the end of 2013.
According to BI Intelligence, mobile coupons are successful in generating online sales and can be of great help to online sellers. Digital revenue from mobile coupons can be worth at least $53 million by 2014. The mobile coupons redemption rate is also expected to be better than print coupons at 10% to 1%. Through mobile coupons, offline sales can also be increased and can drive foot traffic to bricks-and-mortar stores. We can see large brands are also taking advantage of the new marketing strategy.
Mobile coupons are also seen as the perfect way to generate consumer data because these coupons are often redeemed at physical stores. Retail stores can connect the online medium with the offline purchases. These coupons are also important means to keep the communication open with customers.
According to BI Intelligence, mobile commerce coupon users total 29.5 million, up from at least 7 million in 2010. The figure is estimated to increase to at least 47 million in 2014. Because more and more consumers are now careful with their spending, the use of mobile coupons is seen as a great way to reduce expenses. The younger generation is also a target of mobile coupon strategists as college students in the United States of America are more enthusiastic about finding money-saving coupons and deals.