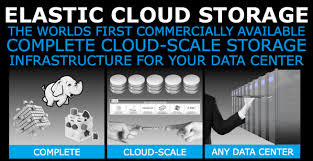 Even in an era of budget cuts and triumphant cloud, companies will continue to invest in infrastructure on site. Although public cloud-based solutions provide both more flexibility and more choices, IT departments are still reluctant to cede control of their sensitive data.
EMC took its EMC World 2014 conference to unveil a new storage appliance designed to compete with massively distributed major cloud providers storage services, which aims to change the economics of cloud storage for customers and service providers, regardless of industry and enterprise. The ECS appliance (for Elastic Cloud Storage) is the result of Nile project, unveiled last September by EMC.
Project Nile offers a web-based, scalable storage infrastructure for data centers. This gives channel partners and customers an alternative to public cloud services such as Amazon Web Services (AWS). Project Nile also offers several APIs include Amazon Simple Storage Service (S3), OpenStack Swift, HDFS and EMC Atmos. Developers can thus simplify their on-premise and public cloud environments customize without programming.
According to EMC, ECS platform combines the ease of use and flexibility of the public cloud with the level of control and security of the local private clouds. It couples a brick clustered storage technology based on ScaleIO, a brick management and service objects on the Software-Defined Storage VIPR 2.0 platform.
EMC ViPR 2.0 is a bridge to the third platform. The solution includes new features that simplify the management of storage infrastructures, whether new or not. With its new data services, EMC ViPR 2.0 provides applications and big data analytics services to companies that also offer management tools. ViPR 2.0 integrated into higher-level management and orchestration offered by VMware, OpenStack and Microsoft, allowing the storage system to be used along with the data center processes.
Alternative to AWS
The third platform of IT is based on the megatrends of big data, cloud, social networks and mobile devices is creating a new world of opportunities for companies in all sectors. The next generation applications are offering unique and easily to customers to interact and conduct transactions experiences. This requires new storage infrastructure that makes the most of big data analytics and the EMC ECS device is the solution for such requirements.
The ECS device allows customers to add cloud capabilities into existing hyperscale hybrid cloud and private cloud environments by providing self-service features, completely automated provisioning and data services for next generation applications.
The data generated by the use of next generation applications through mobile devices create several challenges for service providers and customers: the data must be accessible and safe and be prepared for analytical and storage infrastructure must be able to manage growth explosive. The ECS device is a modular scale-out solution developed to provide industry leading density per rack unit, with up to 2.9 petabytes in a single rack.
According to EMC, ECS delivers transactional performance and a level of service higher than Amazon AWS Elastic storage services (including much better IOPS performance and rich services such as snapshots or replication). Due to the use of VIPR to provide storage services in object mode, EMC also indicates that its services objects have a much richer than Amazon S3 service. VIPR supports all distribution policies, geo-distribution and replication of objects, and OpenStack Swift API object so that the ECS appliance can be used to support heterogeneous clouds.