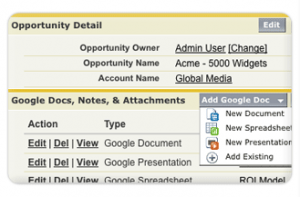 Integrating Google Apps with Salesforce.com is a great low cost way for small businesses to improves users' collaboration, communication and sharing of information. Salesforce for Google apps (Gmail, Google Calendar, Google Talk, and Google Docs) is available and free for all Salesforce users. A premier version with advanced features and direct customer support is also available for $10/user/month.
Here are some of the benefits you can gain from Salesforce.com for Google apps:
Salesforce and Gmail
Gmail and salesforce.com can be joined together. Send email messages from a Gmail account to contacts that are in Salesforce or automatically add customers emails from Gmail into Salesforce so anyone in the company can view a complete history of the conversation
Salesforce and Google Talk
Communicate with company colleagues during calls with customers or discussion with partners via instant messaging right from Salesforce.
Salesforce and Google Docs
No more need to email reports and worry about different software versions, you can collaborate on document and spreadsheets with colleagues or customers and collaborate in real-time.
Salesforce and Google Calendar
You can sync and manage your calendar activities (business or personal) in one calendar interface, stay on top of all meetings, events, and schedules (using Appirio's syncfor Google Calendar from the AppExchange marketplace). The calendar is user friendly with simple checkboxes and drag and drop feature.
Salesforce and Google Start Page
Your can customize your start page to have a view of all important aspects and information of the business.