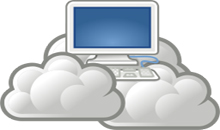 Cloud computing remains to be the most important phase of the IT industry at the moment, but it also remains to create opposing effects of hope and dread in the business world. For those who are prepared and see its benefits, they see it as a means of revenue saving, but for others who do not understand it, they see it as a threat to their business.
For key service provider industries who need all their people to be always on the go, and yet can access the firm from anywhere they are, remote hosting services is a very much welcome shift. Remote servers from cloud providers can do that for their emails, programs and databases, using practically all types of user gadgets that are cloud ready. These companies can easily sign up for the cloud services without having to buy very expensive software or extra servers. This is good news even for startup companies that require server space, an email and CRM database and any other IT service they need that can be set up and be ready for use in just one day.


Infrastructure companies have a lot to gain from cloud computing especially for their site managers. Cloud computing will make tasks so easy and in real time for the manager, he can have access to the company database and have a look at all the projects they have, have an update on their progress, send and receive emails from other employees, follow up with business partners and even monitor the attendance of employees. All these can be done by just accessing his smart phone or tablet PC.
Oil and gas services firms also enjoy huge benefits from cloud computing. Managers and employees are given a venue to communicate regularly; even those who are in far away remote sites or oil rig stations. Cloud computing allows them to access the company database wherever they are, preventing any possible communication breakdown.
A Gartner analyst revealed in its recent research that the cloud seems to be the top IT priority in 2011 for most industry central information officers (CIOs). They said the figures are expected to rise by 43% in the next four years.
The issue on security now seems to be misplaced, with several industries saying that there is better security in placing all data in just one storage system rather than having them in various different places. This concern will be addressed by simply choosing the best cloud provider that can efficiently secure sensitive information. And since security issues are on top of any firm's concerns, cloud providers should work double time in making their security system as efficient as possible.
Another major benefit of cloud computing to any business is the reduction of the operational cost expenses. Although migration to the cloud also has acquisition and re-training expenses, the long term benefits in terms of savings significantly outweigh the initial company expenditure for the cloud infrastructure. The key here is to get the best cloud provider to decrease the cost and increase productivity of the company.
This is the reason why there is a continuous battle between IT companies and cloud providers; each of them trying to buy out or be in partnerships with the best service providers so they can give the best cloud service and eventually get the largest chunk of the cloud market.