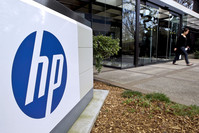 At VMware in Las Vegas this week, HP launched a turn-key IT solution with on-site installation services that includes servers, storage and networking gear, optimized for virtualization on VMware.
HP says this IT solution, called VirtualSystem for VMware, speeds implementation and provides foundation for cloud computing. VirtualSystem is built on products that are part of HP's Converged Infrastructure portfolio.
Paul Miller, a systems and solutions VP at HP, said "Virtualization had become mainstream, but obstacles to wide deployment still remained. With HP VirtualSystem for VMware, clients can simplify and scale their virtualization deployments to provide a clear path to the cloud."
VirtualSystem hardware includes HP ProLiant servers, HP 3PAR storage and HP P4000 G2 SAN network switches. On the software side, the solution includes VMware's virtualization platform vSphere, vCenter product family, vCenter Site Recovery Manager and vShield product family, in addition to HP software.
VirtualSystem is available now for about US$170,000, and includes the Converged Infrastructure hardware, factory integration and three years of HP support. Customers can use existing VMware licenses or buy licenses for pre-installed software from HP.