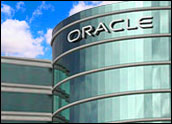 Experts are currently puzzled, and some of them even shocked, at Oracle's latest public cloud vision, in which the software company continues their lock-in approach, which is not a good idea considering the direction taken by the cloud industry these days.
Oracle Corp. CEO Larry Ellison recently reintroduced the company's cloud platform in an hour and a half presentation that consists of various slides that seem to provide nothing but rehashes of last fall's launch of Oracle's cloud initiative.
Oracle's Cloud is currently only appealing to existing Oracle users due to their insistence on being highly proprietary. Shops that are not dependent on Oracle's offerings see no value in the company's cloud, and even wonder why Oracle would take such an approach.
According to GHY International VP Nigel Fortlage, the era is no longer made for vendors who want to exercise complete control over the market. GHY International, says Fortlage, partners with IBM because the company gives them enough leeway to pick and choose the service that they want, and right now they don't see Oracle as a valid solution.
Pricing for Oracle's Cloud has not been announced yet, but the company says that it will be based on a subscription model, instead of the pay as you go model being used by other cloud services. This type of high end pricing effectively negates one of cloud computing's chief principles – that of lower IT costs.
Oracle's Cloud simply isn't a viable solution from a business standpoint, says Windows Azure MVP Roger Jennings, citing that everything about Oracle's service is overpriced just so they can pay the company's sales people.
The actual release date for Oracle Cloud is also ambiguous, as the press materials conflict with the statements the company has made on several online sites. For instance, the company's FAQ states that the Oracle Fusion HCM Cloud and Fusion CRM Cloud services are already "currently available", but the online registration page says that the Fusion Application services will be made available shortly after provisioning the Java and Database services – both of which are still under preview availability as stated in the FAQ. The discrepancies and confusion certainly doesn't help boost confidence in the company's foray into the cloud computing industry.
Oracle's currently subpar reputation mirrors another industry veteran's cloud history: Microsoft. The OS giant failed to garner respect when it announced its entry into the cloud computing business, primarily due to the company's spotty track record at running highly available services. In the same way, organizations that already dislike Oracle's operations teams may find it hard to trust the company's development and support team with their data.
According to corporate advisory firm Pund-IT, Inc.'s principle analyst Charles King, customers who already have huge investments in Oracle products may likely go for Oracle Cloud, simply because it's extremely difficult to pull out solutions that are already deeply rooted in a data center. King says he expects some Oracle customers to cheer hosannas of praise for Oracle Cloud.