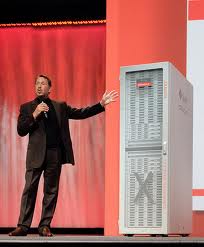 Business leaders are serious about delivering Big Data information to the right set of people and are accumulating both structured and unstructured data at unprecedented rates, but are falling short on turning data into revenue.
According to research report from Oracle – "From Overload to Impact: An Industry Scorecard on Big Data Business Challenges," conducted on 333 U.S. and Canadian business leaders, 38% of companies would not have adequate systems for collecting and managing all information they need.
An average of 86 percent higher volume of data that accumulated compared to last two years, companies have lost an estimated of $71.2 million in annual revenues due to gaps in managing big data.
"This study shows that up to 14 percent of a company's revenue is lost because enterprises are challenged to manage and analyze data, which grows exponentially as we speak. Enterprises can get ahead of the game by using these challenges as catalysts for company-wide strategic change. Through industry-specific applications and technologies, enterprises can transform data into measurable business benefits," said Oracle President Mark Hurd.
The report suggested that 36 percent say they cannot give managers access to information relevant to their business and need to rely on IT systems to compile and analyze such data, although as much as 29 percent of these admitted that such systems are not designed to meet the specific needs of their sectors.
A situation similar to that found in previous studies five years ago found that with the technologies that fail to improve significantly the management of the exponential increase in the amount of data. In fact, 94 percent of respondents say their companies are collecting a wealth of information more than two years ago, with an average increase of 86 percent, a situation brought about by new possibilities of the Internet and social networks.
Health Care Industry Unprepared for Big Data Challenges
Oracle report highlights the deluge of data in health care, but IT managers are not prepared to handle such big data. According to MarketsandMarkets, a research firm, cloud computing is expected to be worth $5.4 Billion in the health care market by 2017.
Marc Perlman, global vice president of Oracle Healthcare said the upholding of the Patient Protection and Affordable Care Act (ACA) will result in grows of big data as providers form Accountable Care Organizations (ACOs).
"With the rise of [ACOs], a greater focus on personalized medicine and the rollout of health care reform, data volumes will continue to grow," Perlman said in a statement.
IT heavy weight such as Dell, IBM and Oracle provide IT and data center infrastructure to store health care data in the cloud used for drug discovery.
"This report demonstrates the challenges that health care organizations face in managing their rapidly growing information stores and their approach to addressing this issue, including deploying industry-specific and analytical applications that help them glean insight and put timely information in the hands of line-of-business personnel when and where they need it," Perlman's statement said.
Health care industries accumulated more than 85 percent of more data than two years ago. Many enterprises are starting to build data management solutions and storage infrastructure, but they don't have the right data talent and skills and don't know what to do with the data.
"A lot of companies don't know how to find data scientists and don't understand data science," Kaggle President Jeremy Howard told me in an interview last week. "These enterprise companies can't implement a proper data analytical solution because they have no data talent."
In contrast, industries such as communications, manufacturing and retail are doing well in managing big data. Majority of leaders in these industries giving themselves 'A' rating, when it comes to data management processes.