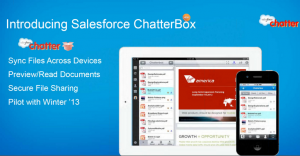 Sharing and synchronizing files become decidedly fashionable function in software. After DropBox, Google, Microsoft, Citrix, VMware, EMC, Apple and others, it is the turn of Salesforce to unveil a service for sharing and synchronizing files, called Chatterbox.
Salesforce.com, the leader in enterprise cloud computing, unveils Chatterbox to show how a company can make its way to sell its services to meet the needs of customers, collaborate, and innovative work. These announcements are made ​​at Dreamforce 2012, the largest conference in the world dedicated to the technologies which will host more than 90,000 visitors.
The aim of the company is to offer their employees Dropbox type functionality, ensuring that their IT teams can manage and control the service in a centralized manner. A recent report by IHS predicts that individual subscriptions for cloud storage can reach $500M by the end of 2012.
Salesforce emphasizes the integration of the system with Chatterbox rights management and licensing its platform which ensures that only users with appropriate permissions can access the shared files. The storage service enables enterprises to embrace social networks and mobile devices that connect companies with their customers, partners, employees and products in a whole new way.
Salesforce's Chatterbox is a solution that allows users to collaborate, share, and manage files with a member of their organization. Employees can now share and manage their files on Chatter as easily share their photos with friends and family on Facebook.
The service allows users to synchronize their files in real time on a multitude of devices (computers, smartphones, and tablets). The user experience is presented as fluid and complete.
Companies can allow their employees to share files in a professional, real-time and directly into their workspaces. Collaboration in Chatter streams also allows employees to have the right information at their fingertips at any time.
In addition, Chatterbox is built on the proven platform of Salesforce and allows companies to benefit from levels of reliability and security provided by the firm. Companies can now share and collaborate on confidential files such as contracts, financial reports or product roadmaps. Files are automatically posted in Chatter news feeds as they are recorded and shared with Salesforce Chatterbox.
The software provides a centralized identity management and secure through different cloud applications. It also integrates with Active Directory systems installed in the company on-premise.
Chatterbox is part of the strategy of Salesforce in adding social networking tools above CRM relationship management and customer service functions and to make them interact. The service will directly compete with Dropbox and other cloud storage services including that of Google, Microsoft and others.