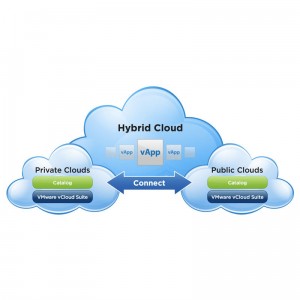 VMware has introduced vCloud Hybrid Service, a cloud infrastructure as a service that provides customers with a common platform to extend their datacenter to the cloud. The Hybrid service is operated and supported by VMware and built on our vSphere and vCloud platforms.
The hybrid vCloud Service should enable VMware customers the ability to easily expand their in-house IT in the public cloud. The cloud offering support thousands of applications, and more than 90 certified for vSphere operating systems so that applications do not need to be adjusted. Users can use virtual networks to securely extend the Layer 2 or Layer 3 networks of their data centers to the cloud. The hybrid vCloud Service offers to vSphere-based functions such as automated replication, monitoring and high availability for mission-critical applications. And finally, users can use the same management tools and processes as their on-premise infrastructure for the cloud service. In addition, cloud providers have the opportunity to integrate the VMware service into their portfolio.
Hybrid vCloud Service will allow cloud users to extend the same skills, tools and models for networking and security environments through on-premise and off-premise. The new service provides a public cloud fully interoperable with existing VMware virtualized infrastructure. With an inside-out approach that will allow new and existing applications to run anywhere.
The company kept the pricing competitive to engage with established names like Amazon, HP and Microsoft. Their Hybrid vCloud Service capacity receives two variants: VCloud dedicated Hybrid Cloud provides physically isolated and reserved computing resources and is offered in accordance with VMware at an annual term from 13 cents per hour for a 1GB virtual machine with 1 processor. Hybrid vCloud Service Virtual Private Cloud is calculated based on a monthly period from 4.5 cents per hour for a 1GB virtual machine with 1 processor.
As like Amazon and other IaaS providers, the public cloud from VMware will offer essentially access to computing resources hosted on virtual data centers in four regions of the United States, Asia and EMEA. U.S. customers of VMware will have access to the new service in June; others will have to wait for the third quarter of this year.
VMware's strategy is to create software-defined Data Center in place. The company wants to virtualize the entire infrastructure from the server to the storage through the network. In this context, VMware has recently invested $30 million on Puppet Labs, a cloud automation tools open-source vendor to create application and infrastructure elements for Amazon Web Services, OpenStack, physical infrastructures, and VMware-based public and private clouds.