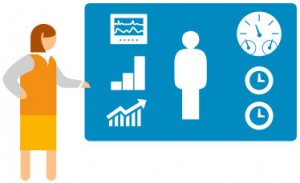 The challenge for organizations is to capture, manage and make sense of their data in real time so that many employees can make better decisions faster. In the course of time, predictive analytics evolve and becomes accessible to all enterprise users, regardless of their industry.
IBM is trying to position the company as the leader in predictive analysis and announced a new set of 20 new predictive analytic solutions unique to each industry. Using the new IBM applications, companies can get quick answers to questions such as how many different color combinations fabrics should we continue to sell in our stores? People who spend time at the table after 20:00 are they more likely to be exposed or late to repay their bank loans? When should we stop the production of an oil well to pump maintenance?
The new generation of IBM solutions can be applied to several sectors – banking, telecommunications, insurance, automotive, energy and other sectors. At the heart of these solutions is a set of data preparation tools for the integration of specific data sources for industry such as pre-built models and predictive analysis of its own, and tables interactive and specific board to help business users to share findings between teams and organizations.
IBM says, "the new solutions draw on company's vast industry and analytics expertise from over 50,000 client engagements. Each solution includes pre-built predictive analytic modeling patterns and interfaces for focused industry use cases, as well as data preparation capabilities to manage unique data and streamline the collection and preparation of data for analytics. With interactive and role-specific dashboards, business users can share predictive insights across teams and organizations that can give them a deeper understanding of their customers, assets and operations to help them make better decisions and act with greater speed and fewer resources."
In the area of Banking, the AML Monitoring and Analytics for Financial Services, the Multi-Channel Fraud Analytics and Behavior-based Customer Insight operate, respectively, in terms of mitigating money laundering risks, prevention of financial fraud and customization customer experience.
The Asset Analytics for Rotational Equipment is designed by IBM solutions for the chemical and oil industry and uses the predictive analysis to anticipate operational breaks and enhance the reliability and availability of critical equipment.
In the financial segment, Regulatory Compliance and Control and Trade Compliance Analytics enable better risk management and regulatory compliance and comprehensive view of the market, using analytical capacity.
In the area of consumer products, the technology company has created a solution that you want to study the customers' consumption behavior and their reactions to certain marketing strategies. The Social Merchandising allows enhancing the operational efficiency of companies that wish to reach a particular group of consumers.
In the sphere of insurance, the IBM Analytics Solution Insurance gives a greater customer experience and reduce the dropout rate, the Producer Life Cycle and Credential Management help insurers automate processes, and the Property & Casualty Claims Fraud enables a more efficient identification and needs of fraud incidents.
For the media and entertainment area players, IBM developed the Behavior-based Audience Insight to a better understanding of their audiences and more efficiently create advertising and marketing campaigns and new content.
In April, following in the footsteps of its closest competitor Microsoft, Amazon announced the Amazon Machine Learning, a fully managed cloud service designed to draw useful information from mountains of data that it is sometimes difficult to exploit, for reasons of complexity, time or energy.