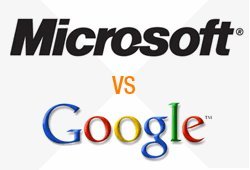 Google is on a deadlock with Microsoft for the next possible Internet-driven revenue. Both of them are wooing companies to subscribe to their hosted versions of vital communications and office software.
Computer science students of the University of Washington heard at a conference last spring what Ballmer's vision is for Microsoft.
He said, "At Microsoft, for the cloud, we're all in, "he also added "It's just a great time to be all-in and really drive the next generation of technology advances."
A nearly completed version of Office 365 was recently released by the software giant which is a crossbreed of its mostly used productivity software suite. Office 365 is built to be compatible with any Internet platform; it is designed to extend the slow but sure software progress that the company has given its effort since 2002. Microsoft hopes to deliver business IT solutions to Web users like water and electricity are provided to household users.
All that for now it is being challenged by Google the leading search-advertizing frontrunner. This was shown in the recent Google I/O developer conference where both companies tried to steal the attention to Ballmer's speech. Here the new Chromebooks was introduced. This latest offering from Google will optimize computers to run on all of its hosted applications like calendaring, messaging and other partnership tools.
Dave Girouard, Google's president of enterprise said, "Chromebooks is actually a huge leap forward for cloud computing, "he also added "We're excited about putting more pieces of the puzzle together. Our aim is to be No.1 in cloud computing."
Cloud computing happens when a user tries to access the services of a third-party host platform other than just on a local personal computer. This delivering service is actually not a new software in the Internet. Internet consumers in fact, have already been using cloud computing with free Web mail services and social networking sites.
The competition between Amazon, Google and Apple to allow storage of your favorite music collection is yet another example of cloud computing. Salesforce.com and NetSuite have also been doing cloud computing through their unique customer relationship management (CRM) and enterprise resource planning (ERP) on a third party host platform.
These developments in convergence have pushed both Microsoft and Google to expand cloud computing to include tools such as e-mail messaging, calendaring, spreadsheets, word file and slide presentation documents sharing other than the basic workplace devices.
Many companies that were affected by the recession are now considering to use the time they have to upgrade their outmoded systems. They have a lot to consider since budgets are still very tight. Some of the issues that concern them include security, increased mobile user access and the complex system that their old computer systems may not be able to handle.
Recently the survey from CompTIA, a non-profit organization for IT pros revealed results that 60% of business IT solutions buyers from the government named efficiency and long-term cost reduction as the primary driving influence for their acquisition of a new software.
Gartner, a tech research company, predicts that business global spending on e-mail and cloud computing applications will be in excess of the projected double increase to $20.7 billion by 2014, which is from this year's $9.8 billion.
Cloud Reserves
Business owners are now having a second look at cloud computing because net connectivity and data storage has now become a necessity. West Miller, industry analyst at research company Directions on Microsoft has this to say, "But the real reason people are flocking to it has to do with saving money, whether directly or indirectly."
In most cases, the basic tool that even small scale businesses outsource is the e-mail messaging system. An illustration here is from Tampa General Hospital where Shane Ochotny works as a tech architect, here he manages four technicians who are working full time by just maintaining their e-mail systems for 7,000 employees and 1,000 doctors; this also includes a separate clinic and administrative office.
Ochotny tested several e-mail hosts including that of Google and Gmail, but later decided to outsource their instant messaging systems and video conferencing platforms to Microsoft. Microsoft has been offering these services since 2002 then it included additional services in 2005 and 2008.
This acquisition made the work for the four technicians easier; they designed a customized program that allows instant internet message access to newly hired workers. Next on their projects is to find a way to combine IM messaging, video conferencing and voice over IP (VoIP).
Some analysts are worried that cloud computing will in time cut employment services. Tampa General's opinion is it is likely to be the case. Rob Helm, analyst at Directions on Microsoft said, "Moving stuff that isn't central to the business into the cloud frees up IT people to work on systems that are central."
Microsoft has chosen the hospital as its firsts to try its Office 365, with specifications of a more user-friendly version of Office. Features of this new Office will allow doctors and nurses to access the program through an Internet browser in any mobile device. Ochotny is testing to see if Microsoft's cloud computing platform that is currently accessed from a traditional computer can be tweaked on iPhones as well as BlackBerry, Android and Windows 7 Smartphones to allow doctors and nurses access IM through their own mobile phones.
Ochotny said, "Since we spend less time on maintenance, we can focus on innovation and better use of existing tools."
Charles King, principal analyst at PundIT says this about Microsoft's edge over Google, "The sheer number of companies of literally every size for whom Office is the de facto productivity suite," he also added "After years of fumbling with its online strategy, Microsoft now has a viable plan with Office 365 to entice enterprises to dip a toe in."
Google's Cloud
Google's cloud computing scheme is to provide a 100% cloud platform versions of Gmail including its Google Apps, which are both free to Internet users. Business cloud computing that requires its commercial version will have to pay for a monthly per-use fee. All these service offerings are accessed through Google's Web browser and servers.
This cloud computing platform will work very well for businesses whose work are diverse that need communications to workers on the factory in some far away field and sharing of files between managers who are in different operations, all through Internet communications.
Kevin Verde, chief information officer of Jason's Deli, a Texas restaurant says, "Our use cases are wide and varied," he also added "We currently have 10,000 documents that our users are collaborating on using Google Docs." This is why they are using Google Docs to share file reports, schedule meetings and events with their managers working in 230 different locations.
Google approached Jason's Deli to first do a pilot test of Chromebooks to which Verde was very apprehensive; to do all communications and file storage solely designed to be accessed on a Web browser is very new to him. This is so unlike the system they are used to do on a regular PC or laptop but may prove very useful. So he agreed and issued the test models to all managers and sales reps who were out all day doing catering services and functions to different churches, schools, local business conferences and seminars. And when the feedback and results were out, he was surprised and very much pleased with it.
With Chromebooks everything was possible for the sales reps; they can view the spreadsheets from other successful outlet locations and see what campaigns they used. They can also access into the successful customer service management plans provided by Salesforce.com.
Verde has become an overnight fanatic of Chromebook and said, "The administration side of the Chromebook is almost effortless, and that is a big deal for corporate IT."
The question is, can Google put up with the advances of Microsoft? And although Chromebook is very intriguing, it is planning on a big step against the giants in tablets and netbooks whose prices are not far from what they offer. It has been a very complex competitive field according to King, particularly with the emergence of the "iPads." He said, "Though tablets essentially offer the same browser-centric experience Google is promoting, they also enhance the user experience via a wide variety of apps."
Google has remained impervious in spite of the big challenge. In fact, to attract Microsoft fanatics they have acquired DocVerse, a software company launched by former Microsoft engineers. They reportedly spent $25 million in March 2010 to acquire this start-up platform.
DocVerse was first introduced in the market in February as Google Connect, a free browser platform that will allow users to access Microsoft Office documents using Google applications. Girouard has this to say to this, "It really knocks down some of the last reasons people have for not wanting to use Google," he also added "This makes it easier."
Microsoft was forced to retaliate by making comments in the tech media that Google Connect ruined and complicated the Office documents format. So lately they have been spiraling Connect as an indulgence that Office cannot be moved.
Tim O'Brien, general manager for Microsoft's platform strategy in a statement said, "Google was trying to shoehorn a consumer offering, Google Apps, into an enterprise value proposition, by telling customers, 'You don't need Office anymore.'" He also added that, "That strategy failed. So now they've changed tack and are telling customers, 'We don't think Office is going anywhere soon, so let us show you how our product can work alongside of it.'"
This could be the case, but Microsoft has no business sitting on its laurels, analysts say. This is because Google just declared that they have more than 30 million "active users" of Google Apps plus some 3 million businesses that add on a daily basis 3,000 new registered users. Among these businesses include midsized companies like Virgin America and National Geographic. They also have large scale businesses some of them include Jaguar Land Rover, InterContinental Hotels and Motorola.
King said, "Google is a serious wannabe contender," and added "The search giant has to be taken seriously if only because it has deep pockets and a strong will."