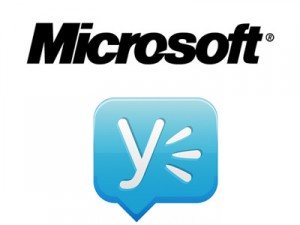 Microsoft has officially announced it has purchased Yammer for an amount of $1.2 billion in cash.
Launched in 2008, Yammer is a social network for business – an intranet modern sort – allowing employees to exchange information and collaborate within their company. Yammer is often described as 'Facebook for business'.
Yammer has 5 million business users. According to Yammer, 85 percent of the 500 largest U.S. companies are members of its network, which reaches 200,000 firms worldwide.
"The acquisition of Yammer underscores our commitment to deliver the technology that businesses need and loves people," said Steve Ballmer, CEO of Microsoft. "Yammer service adds one of the best social networking businesses to Microsoft's growing portfolio of complementary services in the cloud."
Unlike many other social networks that rely on advertising to generate revenue, Yammer rather put on a subscription fee. The basic version of its service is free, but users can choose an improved version with better security controls, priority services and a designated client manager. Companies have both the means and desire to protect the data of their employees, if only for their own protection.
"When we started four years ago Yammer, we decided to do something great. We had a vision of how social networks could change the way we work," said David Sacks. "With the backing of Microsoft, our aim is to massively accelerate our vision to change the way work gets done with software that is built for the enterprise and loved by users."
Although, Microsoft is the market leader in desktop home and office suites versions, the company has still mile to cross on social networking applications for businesses. The purchase of Yammer allows Microsoft to enhance the social aspects of its enterprise software division, which highlights its office suite MS Office. These products account for more than half the turnover of the company, which leads the market with little competition.
Analysts have said that the purchase of Yammer, known for their roles in networks, could allow the software giant to strengthen its offering for social businesses particularly in the over-crowded social cloud foray.
"Microsoft has been a bit slow to social game," said Rob Koplowitz, a Forrester Research analyst. "Social enterprise is taking off, and Microsoft needs a strong position."
It is also expected that Microsoft will integrate the social networking into its popular business products like SharePoint and Skype. Products from Yammer offer best integration into SharePoint and make up lots of new features that SharePoint is currently lacking. Yammer acquisition can fill that gap and improves the collaboration capabilities for virtually all Microsoft's existing customers.
"This acquisition will immediately make Microsoft a strong competitor in the enterprise social market," said Larry Cannell, an analyst at tech research firm Gartner. "It was a stretch to call the capabilities in SharePoint's MySite feature a social network site."
Social networking is attracting other big companies such as Cisco, which has recently offered similar Yammer like product called WebEx Social.
This acquisition is the second for Microsoft in the world of social networks, following the acquisition of Skype, a pioneer of Internet telephony, for $ 8.5 billion. The acquisition will allow the Redmond company to compete directly with Salesforce, which offers similar services called Chatter.