Mobile Cloud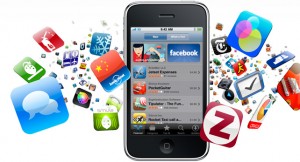 Mobile cloud computing is gaining stream.  According to the latest study from Juniper Research, the number of mobile cloud computing subscribers is expected to grow rapidly in the next five years. Cloud-based mobile market will generate annual revenue of $9.5 billion in 2014 from $400 million in 2009, at an average annual increase of 88%.
This phenomenal growth is driven by new web standard HTML5, increased mobile broadband coverage and the need for always-on collaborative services for the enterprise.
Cloud Apps in Your Mobile
Google's Gmail and Google Voice for iPhone are just two of the well-known mobile cloud apps. Mobile cloud computing is referred to as the infrastructure where both the data storage and the data processing happen outside of the mobile device. From a consumer's point-of-view, a cloud-based mobile application is similar to an app purchased or downloaded from a mobile application store like iTunes, where the processing power is driven not from the handheld device, but from the cloud. When launched from the iPhone homescreen, the apps perform like any other app on the iPhone.
HTML5 Will Drive Mobile Computing Revolution
ABI Research released a major study in mobile Cloud computing which details how HTML5 technology, mobile applications and mobilized enterprises will lead the growth.
Juniper Research believes that enterprise applications will account for the bulk of mobile cloud app revenues. HTML5, the core language used to create the web, will bring about a dramatic revolution. HTML5 is the proposed standard for next version web markup language. The cloud-based apps offer improved offline data caching, where the apps will still work even if Internet connection is down. HTML5-enabled apps also reduce server load demand which will make cloud-based mobile connectivity as a means to improve access of nations and locales with poor coverage.
Cloud-enabled Enterprise Mobility Growth
Juniper Research sees that enterprise will drive mobile growth. It notes that 75% of the mobile cloud-based application market is represented by enterprise users. Thru smartphones mobile apps, corporate users can company data, share files, collaborate on projects and more.  Moreover, there will also be benefits for consumer-oriented apps. In the next four years, mobile apps will comprise an increasing proportion of the total revenues with business plans that involve subscription-based content and mobile advertising.
The Power of the Cloud
Juniper Report notes that the key to mobile's future depends on the processing power of the cloud itself. Cloud-based mobile apps can scale beyond the capabilities of any smartphone. Cloud apps have the power of a server-based computing infrastructure accessible through an app's mobile interface. It does not only allow non smartphone owner to access the same mobile applications, but allows the apps themselves to become more powerful.
Cloud Apps and the Mobile Marketplace
Earlier this year, Gartner researchers estimated that $7 billion will be generated by the app store businesses and would reach $29.5 billion by 2013. This would grow even more by 2014 when the mobile cloud-based application market is expected to near $9.5 billion. From these comparisons, it appears that in the near future, there will be more growth for both traditional, device-based apps and mobile cloud-based apps.
Further Reading on CloudTimes
---
CloudTimes Joins Mobilize 2011 as Media Partner
CloudTimes is happy to announce that we closed a media partnership for the Mobilize 2011 conference, on September 26 & 27 in San Francisco, CA.
---
Microsofts Cloud Computing Plans Revealed
Microsoft is making noise with their new cloud plans in Los Angeles. Steve Ballmer, Microsoft Chief Executive Officer started the annual business partner conference with a blast which was chosen for the key note address.
---
Overcoming Challenges in Mobile Cloud Computing
Renaud Larsen, Chief Architect for Cloud at Juniper Networks said in a statement recently, "The mobile ecosystem has to traverse many complex layers, each of which adds network latency and transmission delay. In addition, the cloud allows users to swap devices and retain access to information—this is a disruptive development, and means that cloud apps need to cover the whole cross-device mobile infrastructure."
---
Alibaba Introduces its own Mobile Cloud System
The Alibaba Cloud Computing unit of the Alibaba Group Holding Ltd. is soon to come out with its own cloud-operated system for mobile phone gadgets. Alibaba will have it released by the third quarter of this year according to an unofficial source.
---
5 Major Trends in Mobile Cloud Computing
If a survey will be conducted on the most glorified technology trends of the year, there are only two answers most people will say; it's either cloud computing or smartphones and tablets.
---
Revenues from Mobile Cloud Computing Exceed Expectations
Both cloud and mobile computing create a major impact in businesses these days. Each of them appears as a major source of revenue for market vendors who wish to capitalize on products that are popular among users.
---
Apple to Introduce iCloud on June 6th
Apple announced today to introduce its new Cloud Service Offering iCloud on June 6th.
---
Apple Cloud-Based Music Service Will Mirror Your iTunes Library
Apple's plan to launch a new streaming music service has created a massive amount of speculation. According to a Bloomberg report, Apple's upcoming cloud music service will have the ability to scan your hard drive and then mirror the users' music collection on its own servers.
---
Google and Microsoft Battle The Cloud
Google is on a deadlock with Microsoft for the next possible Internet-driven revenue. Both of them are wooing companies to subscribe to their hosted versions of vital communications and office software.
---
4PSA Brings Carriers New Business Opportunities
4PSA, a leading-edge Cloud Computing software development company, has recently announced the revamping of its Certified Trunk Provider Program, a partnership program through which SIP Providers can attest the compatibility between their SIP trunking solutions and 4PSA's award-winning VoipNow Unified Communications Platform.
---
Amazon Cloud Player Now Works on iOS Devices
It's quite hard to understand that despite the advances in technology, the Internet, which is the keystone of free communication, is still delimited by geographical restrictions. We are referring to Amazon's two newest offerings, both of which are only offered in the US.
---
Facebook Acquires Mobile App Maker Snaptu
Facebook has agreed to acquire London based Israeli  startup, Snaptu, that makes apps for feature phones, for an estimated $70 million. Snaptu offers a service that makes social networks such as Facebook, Twitter and LinkedIn easily available on regular,  non-smartphones, that make up more than 80 per cent of handsets sold globally.
---
Cloud Computing and Smartphones
For the past two years, the tech industry trends have revolved around cloud computing and smartphones.  As Venture Capital firms rapidly invest in cloud computing and smartphone companies, it is important to look at how these two technologies interrelate.