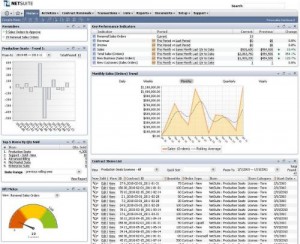 Netsuite, a leading provider of cloud based ERP announced this morning the release of a new version of Netsuite Software Company Edition. The new version will help software companies tackle the challenges of managing revenue models and in particular the complex processes of recurring revenue management streams. The new software limits customer churn and allows software companies to maximize their revenue from existing licenses. It also insures long-term health of the company with real-time visibility and automation of the management of renewals, billing and contract management.
According to Jim McGeever, NetSuite COO,
"There's no other product on the market that combines the productivity and cost-savings benefits of cloud computing with the deep functional capabilities software companies need to run efficiently and scale."
NetSuite has made significant steps to be an industry leader in cloud-based ERP suites and is ahead of SAP and other competitors in many aspects. NetSuite enables companies to manage key business processes like ERP and CRM with high ease of use, cost efficiency, and flexibility.
Features:
Automated Renewals

Automate renewals based on pre-defined windows, reducing manual labor
Execute perpetual or term-based license renewals
Multi-Contract Management

Co-terminate multiple transactions into a single contract
Maintain multiple contracts as necessary

Uplift and Discount Management

Automatically uplift contracts based on a price book or across the board
Flexibly implement discounts and uplift at customer or contract levels

Multi-Channel Support

Track and manage multi-tiered sales interactions

Real-Time Visibility

Track renewal tasks as they are automatically added to dashboards
Monitor KPIs of key metrics, trends and priority items
Drill down to detail data for interactive reporting

Revenue Recognition

Provides flexibility to separate revenue recognition from billing milestones, a critical requirement for some companies to meet new revenue recognition guidelines

Cross-Selling and Up-Selling

Capitalize on sales opportunities with the automatic creation of renewal transactions based on a pre-defined window
Identify and address customers at risk of canceling licenses or reducing scope
Leverage rich customer transaction histories identify new opportunities within your client base
Fine-tune commissions and incentive compensation based on quotas, sales, quantity and more
Configure automated and customized recommendations for cross-sell and up-sell
Promote cross-sell and up-sell features and options to customers via your website