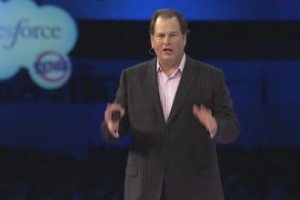 Marc Benioff, CEO of Salesforce.com kicked off Dreamforce 2011 this week, the largest cloud computing event of the year with over 45,000 in attendance and 35,000 joining online. Benioff took the stage at San Francisco's Moscone Center to the pulsing sound of Metallica drawing an image of the future of social enterprise with Salesforce at the helm.
Customers are revolting against traditional enterprise software as corporations become more social, Benioff explained at a Q&A session at his company's annual conference in San Francisco on Thursday.
Benioff argued that the IT industry as a whole is a complete state of transformation. Customers are often finding themselves at two polar ends of the spectrum, reiterating his Arab Spring parallel on the one end where the Internet isn't being used at all to the inverse side of overexposure.
"We need to pay attention to that at this conference too…. It's not so long from now that we'll start to hear about a 'corporate spring,' an 'enterprise spring.' We've seen Mubarak fall, we've seen Kadafi fall. When will we see the first corporate CEO fall for the same reason because his or her customers are rising up or not listening to their employees, not paying attention?"… That is what this sign is, It is more important to listen then ever before… that is the social revolution."
The rules for cloud computing, integrating social and anything else with it are not clear right now as Benioff exclaimed we are "in a whole new world" with this technology.
Nevertheless, as Salesforce grows, Benioff explained, it's not about being a dominant and sole leader in this space. Rather, Salesforce is sticking to the plan at the heart of the company: it's about building a community.
Benioff had some kind words about VMware, which he described as a "tremendous partner." He acknowledged that virtual machines are "a powerful piece of software that let us get more value out of existing servers, which have a high level of inefficiency."
But virtualization doesn't fit in with the Salesforce philosophy as Benioff stated that Salesforce's approach to cloud computing is "public services."