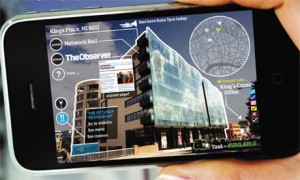 Mobile is redefined at the Mobile World Congress in Barcelona. Mobile has become far more then a mere communication device. Mobiles serve as our books, health monitors, payment transfer devices, social connectors and tour guides.
Augmented reality will be a key topic at the MWC. The organizers invite to explore the Mobile World Congress of 2012 in augmented reality. Walk through an interactive 360° World or make the print ad come to life in 3D.
MWC 2012 AR Experience provided by Junaio and Tab Worldmedia.
TAB Worldmedia:
Full Service Mobile Augmented Reality Agency TAB Worldmedia helps premium brands realize their mobile augmented reality strategy on the highest innovative level. As a fully independent and private agency we create and produce interactive augmented reality content to all public AR enabled mobile browsers and apps. www.tabworldmedia.com.
junaio:
junaio® is the most advanced mobile augmented reality browser, a mobile companion and instant source of information about places, events or bargains. What's on at the movies, where is the nearest cash dispenser, taxi stand or subway station? The best steak in town, or the hottest show? Finding your way inside exhibitions, getting added information on products, ads or news articles. This and more at your finger tips with junaio®, your mobile companion. www.junaio.com.